SST Thermal Dish units can provide 40 kW of efficient solar heat / thermal energy in sunny locations (high direct normal insolation).
SST Thermal dish is a paraboloid dish collector with point-focus thermal fluid receiver. Compared to more common CSP (concentrating solar power systems) such as solar trough or heliostat/towers, a dish collector is the most efficient system for collecting and concentrating solar energy.
Thermal Dish Value & Efficiency: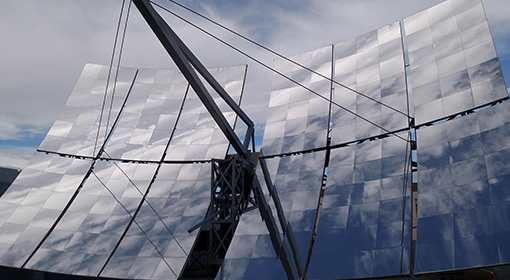 Highest collector-area efficiency – dish mirror area fully faces the sun at all times. Solar trough and towers suffer significant losses whenever the sun is low in the sky.
Highest year-round efficiency due to two-axis tracking
Compact thermal dish receiver can avoid the high convective/wind losses incurred by the long pipe used in solar trough collectors
Solar Dish systems are much more effective in higher latitudes, where the sun is lower in the sky
These advantages combine to deliver more year-round solar output, and higher temperatures, than solar trough or heliostat/tower systems that suffer reduced output outside of summer months
The SST Solar dish has a collector area of about 54 square meters. During clear sky conditions a single dish can deliver about 40 kW of thermal energy, assuming nominal losses.
Advantages:
SST Thermal systems as small as one 40 kW dish can provide high temperatures and high efficiency
Much better suited for medium scale commercial/distributed use than troughs or towers, which typically require very large and capital-intensive projects
Constructed using common equipment, such as forklift
Irregular site layouts can be accommodated
Systems can start small, with dishes added over time
Thermal loss due to air/wind can be lower compared to long exposed pipes used in trough systems
Pre-cast foundation, or site-built foundation
Glass mirrors for efficiency and long life
Thermal Applications:
Domestic hot water
Food / Beverage processing
Pasteurization
Drying
Steam Generation
Water distillation / Membrane Distillation
Temperatures:
Solar Dish high concentration and point-focus receivers can provide heat at any temperature allowed by the thermal fluid selected.
Pressurized water for low/medium temperatures, thermal oil for higher temperatures up to 350C
Heat typically transferred to a heat exchanger / storage tank, for use in customer application