The
SST Dish
and CPV design was inspired by previous CPV experience, and more recent solar dish development under a multimillion dollar private R&D program for a larger scale "dish turbine" development. That solar dish project was halted due to US utility market changes. In the current global market a substantial opportunity exists for integration of CPV and thermal energy which leverages much of that development, with higher efficiency from CPV,
low cost potential
, and greater deployment versatility.
SST has completed the basic R&D and proof of concept test of Dish with CPV and heat removal. It is now making and testing demonstration units, and preparing for next-gen design and manufacturing improvements.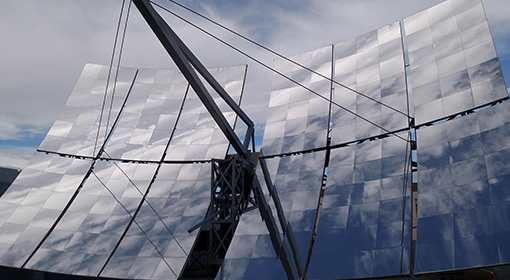 The technology incorporated in the SST CPV module and dish system includes:
High-density CPV module design. Uses state-of-the-art materials and processes as used in high-power modules for electric vehicles and power converters
Ability to operate with non-uniform concentrated light. This allows CPV to be used with conventional mirror collectors. Other CPV designs are unable to do so.
Durable glass optic, using borosilicate glass or quartz, both known for durability in harsh conditions
Proprietary liquid cooling "coldplate" design, using leak-proof friction stir welding.
Mirror panel design. Materials-weight efficient, and versatile enough to be made in low quantity without high capital investment. Pathway to low cost high volume production
Advanced electronics control and data management system. Linux-based for high capability and reliability.
Includes internet operation. Sunsensor correction of tracking errors.
Integrated DC-DC power conversion. Includes remote control and real-time data collection. Integrated "maximum power tracking" which dynamically adjusts for changes in ambient conditions including temperature and sunlight
Potential for integrated low cost DC-AC conversion
Optical design methods developed at SST to facilitate the custom design of CPV-mirror arrays for different dish and tower applications
Patent applied for in the US. Substantial opportunity for new patent applications in regions around the world
High product content that can be manufactured in a local market. Steel structures, motor/drive actuators and mirror panels together are the majority of the product cost.
Market entry cost target of under $3000/kW, with potential to cost well under $2000/kW at mature production of under 100 MW per year.